Confront industry ageism with the new short film '40ish'
Too often the biases of Hollywood and the film industry at large are ignored. Writer Nicole Stuart and director Traci Hays are pushing some discussions into the limelight with their new short film 40ish…. Stuart stars in the film as Natalie Silverman, an actress in her mid-forties struggling against the rampant ageism of the movie business. 
If you're looking for a comedy that has substance & heart, then you're in the right place. 40ish… has the whole package, from laughs to memorable characters and a tightly written script. This film could easily become your favorite short of the year.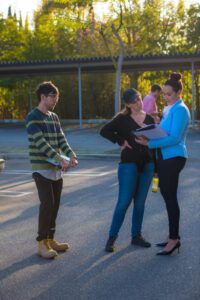 Powered by the cast
The film takes a searingly comedic approach to its subject matter and manages to balance genuine exploration of a serious issue with a lighthearted and easily enjoyable tone. The already good script is taken up several notches by the film's powerful cast. It's impossible not to watch Stuart's before as Natalie and not be charmed by the character and rooting for her through her struggles. 
Part of what makes Natalie's character so endearing is her undying optimism. She's been struggling through the cruel world of acting for nearly twenty years and is still waiting for her big break. Nevertheless, when Natalie says she is "living the dream", she means it. Her dream is to be a working actress, and 40ish… highlights the difference between what people imagine the dream to be and what it is. Natalie gets it.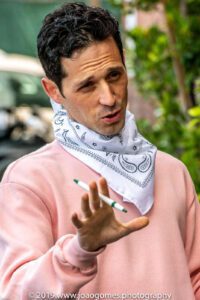 The wonderful supporting cast includes Brooke Lyons, Tessa Ferrer, Feodor Chin, Andrea Lwin, Matt Marquez, Jack Sundmacher, Algerita Wynn, Andrew Schlessinger, Joanne Scorcia, Caitlen Renee Campbell and Clive Coogan. All of them breathe enough life into their characters that the short film often feels like the pilot of your next friend sitcom. The comedic chops of the cast are impressive. 
40ish… gives everyone a chance to shine. Chin's character sparks the earliest laugh and sets the tone for everything that comes. Lyons & Ferrer strike gold with their dry embodiment of characters who are really just part of the industry machinery. Sundmacher's character, himself a working stand-up comedian, delivers some of the most memorably hilarious lines with perfection.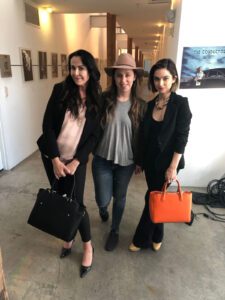 Growing recognition
As 40ish… makes its way to film festivals, it's garnering heaps of praise. The film was an official selection at both the Women's Comedy Film Festival in Atlanta, Georgia and the LA Comedy Film Festival. It was also a semi-finalist at both the Flicker Rhode Island Film Festival and the Monte Carlo Comedy Film Festival. Most recently, 40ish… was accepted to present at the Cannes Film Festival Court Métrage Short Film Corner. 
Director Traci Hays and lead actress Nicole Stuart have gotten some special recognition for their work on the film. They won Best Director and Best Actress awards from Toronto Film Magazine and the International New York Film Festival.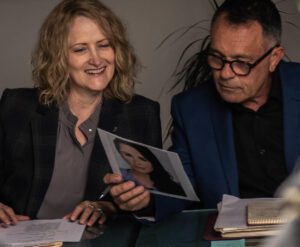 40ish… is impressing audiences & critics everywhere that it goes. If there's a complaint to be had about the film, it's that there isn't more of it waiting to be seen. Luckily, Stuart's feature film The Egg and I directly follows the story and characters introduced in 40ish…. Her next feature, Vegas Girl, will use a darker lens than 4oish… to explore growing up in Las Vegas. 
Hays & Stuart have knocked it out of the park with this short, and if you haven't seen it already, you should watch 40ish… as soon as possible.